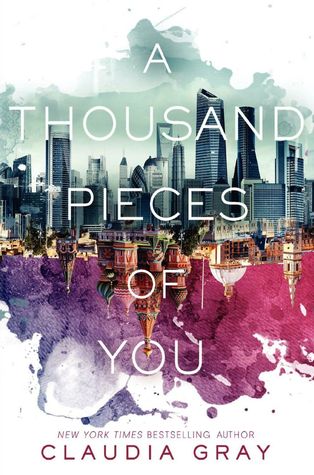 A Thousand Pieces of You by Claudia Gray
Rating: 4/5 Stars
Genres: Science Fiction
Release Date: November 4th, 2014
Source: Publisher
Synopsis:
Marguerite Caine's physicist parents are known for their radical scientific achievements. Their most astonishing invention: the Firebird, which allows users to jump into parallel universes, some vastly altered from our own. But when Marguerite's father is murdered, the killer—her parent's handsome and enigmatic assistant Paul—escapes into another dimension before the law can touch him.

Marguerite can't let the man who destroyed her family go free, and she races after Paul through different universes, where their lives entangle in increasingly familiar ways. With each encounter she begins to question Paul's guilt—and her own heart. Soon she discovers the truth behind her father's death is more sinister than she ever could have imagined.

A Thousand Pieces of You explores a reality where we witness the countless other lives we might lead in an amazingly intricate multiverse, and ask whether, amid infinite possibilities, one love can endure.
Review:
I think it's impossible to argue that this isn't one of the pretties covers in existence, so you can imagine my excitement when I was offered up the chance to review this book. You can also probably imagine the amount of times that I stopped and stared at the cover for a good while before continuing to read; it was that enchanting. Overall though, A Thousand Pieces of You was an intriguing read, despite the fact that there were some flaws that prevented me from falling head over heels in love with it.
I think for me, hands down, the most enjoyable part of this novel was the world-building. I got a little caught up with the technical terminology, but overall, not only were the details relatively easy to understand, but everything was so thorough. Whenever dimensions changed, the setting was painted so intricately, and I was always thoroughly immersed. It was always interesting to see the contrasts between the new dimension and our own, and to see how the main character reacted and adapted to each. I never felt like any were underdeveloped, which was a pretty great feat, considering how much things shifted throughout the book. I think having vivid backgrounds really enriched my experience, and made reading about the different dimensions that much more interesting.
What also made the book really interesting was the main character, Marguerite. She was a relatively typical YA heroine, but I liked how easy she was to relate to. There's a fierce stubbornness and innate kindness that's just really hard not to like. Of course, she makes her own lame mistakes, but throughout the book, she makes some good decisions and is always wondering about the consequences of her actions, which is quite a refreshing change from the norm. Combined with the awesome sauce world-building, the book was actually really riveting. I had a hard time putting it down.
Even with that though, there were definitely some draggy parts. This book's plot is essentially put on hold for a while just to develop the romance, and even a slightly shaky one at that. I'm not the biggest fan of romance, but even for those who are, I don't think it's justified to take out a large chunk of the story simply to allow for the romance to grow. I missed the action in that part of the story, and I feel like if there was more happening during that portion of the book, it would have progressed the story regardless.
One of my biggest qualms with this book, however, lies in the fact that very little is actually progressed besides the romance and world-building. I definitely enjoyed the latter, but in terms of the answers we were looking for, I'm totally lacking. The overall story arc almost didn't progress at all. Pretty much, all we know who the bad guy is. Nothing about the plot, the threats, or even what's happening or what's going to happen in the future. There was a lot more potential to move things along, but overall, this book leaves me feeling like the main objective was to just get the story set up for future books.
Overall, I can definitely say that I enjoyed A Thousand Pieces of You. While the book doesn't exactly live up to that insanely gorgeous cover, I really enjoyed the world-building and the perspective of the main character, which made for one heck of a riveting read. Even with the draggy parts and the lack of real progression in the story, this book definitely has piqued my interest. I'd recommend it for all time travel lovers, and those looking for a story with a colorful setting. I'm looking forward to seeing where Claudia Gray takes things next.
Thank you to the publisher for sending me a review copy of this book in exchange for my honest thoughts.